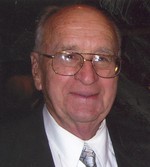 Command Sgt. Major Robert W. Matty
Command Sgt. Major Robert W. "Bob" Matty, 84, of Westminster, died Friday, August 26, 2011 at the Carroll Hospital Center. Born June 25, 1927 in Star Junction, PA, he was the son of the late Katherine M. Urick Matty and Joseph Andrew Matty. He was the husband of Helga Matty, his wife of 57 years.

He served in the US Army for 30 years and retired as a Command Sgt. Major. He fought in World War II, Korea and Vietnam where he received many metals during his tenure. After Vietnam he worked in the ROTC Department at Western Maryland College. He devoted his life to the Army and after retirement from the Army he continued working in the ROTC department, served as Treasurer of the Berlin US Military Veterans Association and was a member of St. John Catholic Church, life member of American Legion Post No. 31 and VFW Moleville Post No. 467. He also enjoyed traveling, gardening, and trains.

Besides his wife he is survived by daughters and son-in-laws Elaine and Brian Green of Westminster and Linda and Roger Imes of Reading, PA; sons and daughter-in-law Steve and Dolores Matty of Manchester and Michael Matty of Glen Rock, PA, brothers Henry and Melvin Matty; 8 grandchildren and 1 great-grandson.

The family will receive friends on Tuesday from 2 to 4 and 7 to 9 p.m. at the Fletcher Funeral Home, 254 E. Main St., Westminster.

Mass of Christian Burial will be held Wednesday at 9 a.m. at St. John Catholic Church, 43 Monroe St., Westminster. Interment with military honors will follow in Garrison Forest Veterans Cemetery.