Dwight Byron Eastman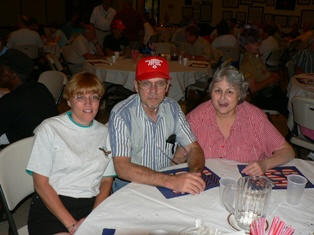 This is a picture of Dwight at last years (2007) dinner.
Dwight Byron Eastman, 59, of Martinsburg, died
Thursday, March 27, 2008 at his home.

Born December 7, 1948 in Anstead, WV, he was
the son of the late William Egbert Eastman and
late Ruby Skaggs Eastman.

He was a dock worker for Roadway Express for
over 21 years, was a veteran of the U. S. Army
serving in Vietnam with the 362nd Eng Co.
20th Engineer BDE. and was a very loving person.

He touched the lives in a special way of
everyone who knew him.
He was a devoted and loving husband, father,
grandfather, and great-grandfather. His
greatest joy in life was being around all
his family. He was self-less, experiencing
the expression of thankfulness was the only
repayment he ever wanted. He was able to
see the simple things in life that the
rest of us took for granted. He brought joy
to us all and he will be missed. his
memory will always live on through us and
that is the greatest gift he gave us.

He is survived by his wife, Barbara Jean
Chittum Eastman, two daughters, Melodie L.
MacLean and her husband, Jim, of Bunker Hill
and Treasure V. Dillard and her husband,
Benjamin, of Martinsburg, seven grandchildren,
one great-grandchild, one brother, three sisters,
his mother and father-in-law, Hamilton & Love
Chittum and a number of nieces and nephews.